Just One Spin - Watch The Ball Roll
The current 2007 spin total is $220.00



To try and make the 2007 spin a bit higher than in 2006, we will be offering some incentives to encourage donations. The first is that the top 5 donations will receive a link to their website on this page. If you are looking for quality advertising at cheap prices, this is an excellent opportunity.





The Current Top Donations

1. $80.00: Randy from Roulette Hero
2. $40.00: Joe from Roulette Genius
3. $35.00: Vicky from English Harbour Online Casino
4. $30.00: Jay from Bodog Online Casino
5. $30.00: Steve from Vegas Wiki




****************

First and foremost, we'd like to send out a special thanks to Charles Martin and Tommy Vinson who made the the very first Just One Spin possible on August 13, 2006 at the Golden Nugget Casino and Hotel in Las Vegas, NV. If it hadn't been for the generosity of these two individuals, there would have never been a spin. Here is how the spin developed:

With the $45 in hand we decided that we would make the bet at the Golden Nugget (where we were staying)




The next decision we needed to make was where on the roulette table we wanted to place the bet. While obviously red / black would have been the safest bet, with the bet being under $100 we decided that in the interest of the site we would need to go for it and place it on a single number. We also briefly toyed with the idea of using the money and making bets over a number of spins to try and grow it into something substantial, but quickly decided that went totally against the entire concept of just one spin.

We then needed to decide which of the 36 numbers to choose for the bet? We walked around Las Vegas for a day and a half looking for inspiration on what the lucky number would be, but finally found it right where we started inside the Golden Nugget hotel. The hotel houses the largest gold nugget in the world which is named the "Hand of Faith" which seemed aptly appropriate to our single roulette spin.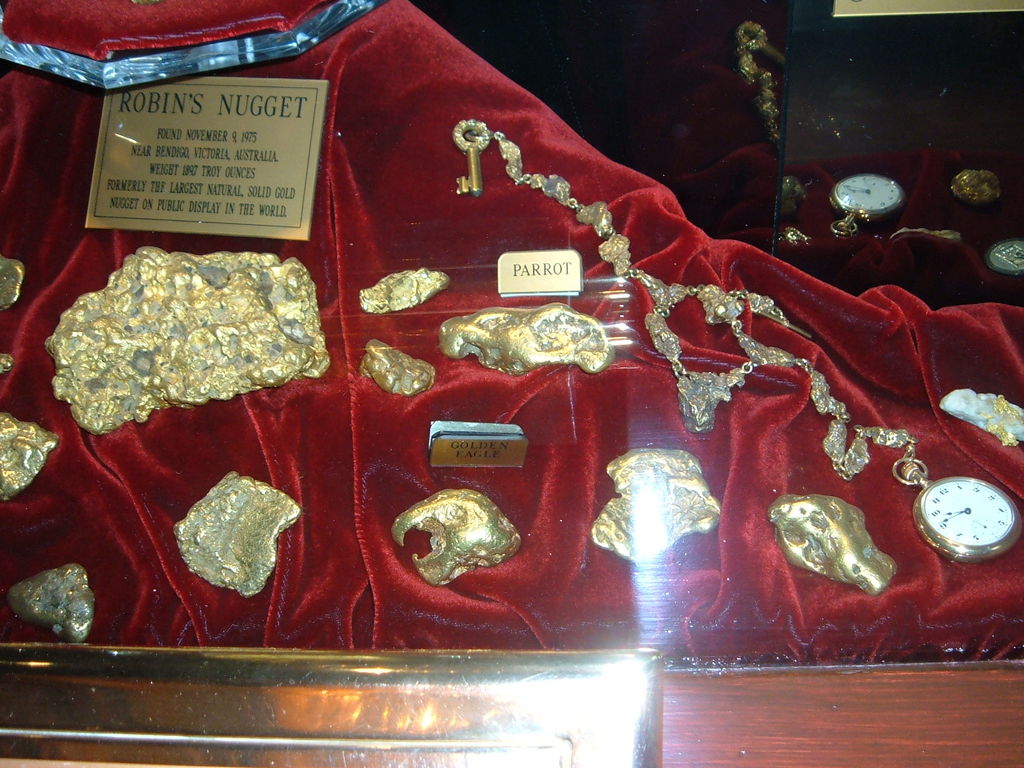 Housed with the Hand of Faith gold nugget was the largest known collection of gold nuggets of substantial size which consisted of a total of 31. It is when we saw this that we decided that 31 (black) would be our number.

We took the $45 and changed them into a $25 and four $5 chips to place on the table.




It was then off to the casino floor to make the bet (unfortunately no photos were allowed on the casino floor so we could not document this first spin, but we hope that in future spins we can eventually make them large enough to have them conducted in a private area). There were three roulette tables to choose from and we spent some time watching the numbers coming up at each of the tables to decide which one seemed more favorable to spinning a 31.

Even with the money not being ours and not being a huge amount, we were both surprisingly nervous making the bet. We can't imagine how it will feel in future years where there is the possibility of the betting pot being much larger and we'll have to make a similar bet with a lot more chips. While we imagine a huge bet will be a lot of fun, we also now know that it will be nerve racking at the same time.

Nate finally did the honors and place the bet on 31. This brought surprised looks from the other players at the table (a $45 bet, while not a huge amount, still is an unusually high bet to see placed on a single roulette number) and a couple of them immediately placed their own chips with our bet.

The spin went off and after several moments, the ball began bouncing around the roulette wheel. When it finally found it resting place, it was resting in.......... red 18 and we lost the bet.

Now before you think that we were completely off, you have to realize where red 18 lines up on the roulette table. It is the number directly next to black 31 - we were only a single space from hitting it correctly. Up to that point neither of us had really thought about the possibility of actually winning, but after missing it by a single space, we ran the numbers. Had we hit the $45, we would have been paid $1620 which certainly would have made us excited.

So the premiere 2006 Just One Spin resulted in no winnings, but we will begin collecting again from today to make another spin in 2007. We invite one and all to participate and donations of any size will be greatly appreciated and add to the fun. The goal will be to at least double the $45 of 2006.



****************************



Welcome to our site. Okay, here's the deal (pun somewhat intended). Everyone has the dream of winning big in Las Vegas; of whipping out a few thousand dollars to place on just one spin of the roulette wheel. We're planning our second trip to Las Vegas in August 2007 and if you go to Las Vegas, you need to make at least one big bet. We decided that we'd each chip in $5 for a $10 bet, but as we continued to talk, we thought wouldn't it be cool to make a really big bet - $1,000 or even $10,000.

So we've created this site to collect money for our one big bet. Whatever is collected, we'll take it to a roulette table and place it all on just one spin of the wheel. Everything. The works. The whole caboodle. The entire enchilada. The whole shebang (we think you get the point).

Now we know before we even ask that you're already rolling your eyes, so if at anytime you start thinking, "These guys are crazy. There is no way in hell I am going to donate money to their spin," make sure you visit our free $45 offer before you leave.

What you can do to help:

Make A Contribution: Any amount you donate will be greatly appreciated, but the more you give, the more exciting our one spin will be for everyone. Think about it. A single bet of $10 isn't nearly as exciting as a single bet of $10,000. The higher the pot gets, the more exciting our spin will be. If you don't want to donate, no problem. Just hang out and enjoy the chat 'cause in the end we're going to Vegas and we're going to have a great time along the way!!!





This is a purely entertainment project and your contribution allows you to take part in the fun of our just one spin bet. If you decide to make a contribution, do it for the fun of it and the excitement of being a part of our big bet.

Be Famous: Get your names in lights (or at least on a page of our site) for your contribution. If you don't want to be famous, that's fine. We'll still gladly accept your contribution without giving you the accolades.

Also help us fill out our Landmark Moments. The current landmark we are shooting for is our first donation of the 2007 campaign. Donate now so we can move onto the next landmark!

Spread The Word: If you think this is a great idea (or even the stupidest thing you ever heard of), tell everyone about it. Email your friends, link us in your blogs, tell your good friend the newspaper editor (but don't SPAM 'cause that is just uncool). The more people that know about the site, the bigger the our spin will be worth and the more fun it'll be for all.

*************
Some other sites that sponsor us and help keep this site running:

Online Casinos :: casino en ligne :: Online Casino Tips :: Las Vegas Nightlife